THE TEAM: BLACK ART RACING
The contemporary version of New Zealand legend Burt Monroe, better known as the World's Fastest Indian, Black Art Racing is made up of Australian riders Greg Watters and Kim Krebs, and US rider Jim Higgins.
Greg and Kim are the only Australians competing at this level on the world stage of high land speed records, and the team consistently fields the fastest bike of the race meet wherever it competes. Together with Jim, the team is a real international powerhouse which has consistently set records across two continents and multiple venues since its establishment in 2008.
While operating at the highest level, Black Art Racing is at its heart, a grassroots effort which lives the values of honesty, integrity, professionalism and persistence while chasing ultimate achievement. Building what they race as ordinary people with a passion for bikes, Black Art Racing is proof that you can achieve great things with a bit of tenacity.
The sport is not for the faint of heart, even when you take the exceptionally high speeds out of the equation. Meticulous planning and attention to detail is needed before you make the trek to remote corners of the world to take on the unforgiving salt flats – with often 15 hour plus round trips to the nearest spec of civilization, all you need to race and to live must be brought with you, and you rely on your team and your wits alone. It is a challenge the team has always relished, and even when they lost everything due to fire in 2014, the trio rose from the ashes to even greater heights.
In Bolivia – the team's most ambitious goal – the high-altitude desert sees riders compete at over 4,000 metres above sea level. Remote not only logistically but also culturally, there are only a few people who can successfully build bikes that can perform at this altitude, and even fewer who have the opportunity to leave their mark on the history pages with a world land speed record there.
Given their success to date, it is no surprise Black Art Racing has graced the pages of many a news outlet and even advertisements, with Kim playing a starring role in a global campaign for Nurofen in 2012 and appearing on the cover of Sally-Anne Fowles' book "Fast Women: Australian Pioneer Motorcyclists" (2017).
The epitome of what people can achieve if they believe in themselves, their team mates, and their product, Black Art Racing is perfectly positioned to act as a mascot for any enterprise that wants to capture the hearts and minds of its stakeholders and show them what they are capable of.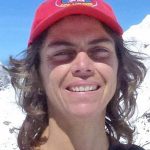 Kim Krebs
DOB: 11 July, 1969
Occupation: Manager for community engagement programs for the SA Environment Department.
Qualifications: Masters of Science (Geomorphology)
Based: Stirling, South Australia (AUS)
Stand-out moments: becoming the fastest female on a sit-on motorcycle ever in 2016. Having the bike catch fire at over 200mph and being able to bring it to a safe stop before stepping off amidst the flames.
Kim has been the fastest Australian woman land speed racer since 2006, received the SheMoto Award (US based award for female land speed motorcycle racers) and was MA Rider's Division Woman of the Year in 2012. She holds multiple speed records and was the first Australian woman to set a record over 200mph to join the '200Club' – more people have flown in space than who belong to this club.
"Motorcycle racing is equal parts bike and rider. There's no radio connection to your crew until you meet them again at the end of the run. Its up to you during the moments that you have to exceed yourself. Once you start moving at over 230mph, everything starts to get quiet, as you are starting to be ahead of the noise your creating. It's always been about motorcycles for me. I was 42 years old before I bought my first car – a ute! My first race was in 1989 and I have been land speed racing since 2006 after being introduced by Greg – I met Jim on his first trip to Australia later that year and Black Art Racing was born. These are two men that I have complete faith in, and we rest our lives in each other's hands – it is an amazing feeling to have that absolute trust in one another."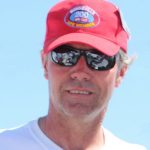 Greg Watters
DOB: 13 November, 1962
Occupation: Farmer (third generation cropping in central Victoria). Former Supercars mechanic.
Based: Wunghnu, Victoria (AUS)
Stand-out moments: being the first Australian motorcycle land speed racer to set an American landspeed record over 200mph (224mph in 2008) and the first(and only) Australian motorcycle land speed racer to gain an SCTA license for speeds over 250mph (set in 2012 and still stands). Also maintaining control of a bike at 256mph as the front tyre completely delaminated.
In 2008, Greg bought a USA-based GSXR750 – sight unseen from eBay – and made plans with Jim to collect the bike just three weeks ahead of competing for the first time ever at the famous Bonneville salt flats. Greg flew over with two suitcases full of electronics, engine parts and a complete turbo system and proceeded to build a bike from scratch. On that bike, Jim would set records at 223mph and Greg set at 224mph at that first event. Amongst all the stories, this one perfectly sums up who Greg is – someone who can build something extremely fast not only by-hand but without the backing of a factory, before going on to annihilate existing records with what he has built.
"I have been racing since I was 12 years old, but it wasn't until 2004 that I began land speed racing. When you're racing, it all happens so quickly and it is a real adrenalin rush. My bike has been completely modified to suit the speeds of racing – from the fuel tank, the intercooler built into the air intake, motor modifications, a braced and lengthened swingarm, and plenty of bodywork for aerodynamics, there is not many original parts left!"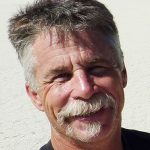 Jim Higgins
DOB: 12 January, 1953
Occupation: Retired fireman, 29 years of service with the Vallejo Fire Department including 20 years as fire captain. Also owned motorcycle dyno tuning business.
Based: Brentwood, California (USA)
Stand-out moments: finally breaking into the Bonneville 200mph after missing the average required on the previous two runs by one tenth of a mile per hour. Also running his first 200mph plus run on a paved airstrip in what was the very last run of the day to earn his way into the Mojave Mile 200mph club, and later running 244mph at Mojave.
Jim started his land speed racing days at Bonneville in 2000 and has since raced in both the US and Australia, holding multiple records at Bonneville, El Mirage and Lake Gairdner and having also laid claim to Top Speed trophies at Bonneville and the Mojave Mile. A member of no less than seven 200mph Clubs including the coveted Bonneville 'Red Hat' and the 'Dirty 2' Club Hat from El Mirage, Jim is a true force to be reckoned with on the salt.
"I started racing at Bonneville in 2000 as part of a Buell-based team – I had volunteered as their EMT and simply got hooked. Land speed racing allows me to test myself and my machines to their limits, while meeting amazing people and travelling all over the world. This sport is unique in that it pits the racer and his machine against themselves, asking just how far you can push the limits of each. The fact that anyone with a desire and the will can do this kind of racing is a real drawcard for me – that and that diversity of ideas and machines, and the fact that everyone is so open and friendly, willing to share parts if you are in need even if you might be breaking one of their records in the process!"
•  World's fastest female motorcycle land speed record: 241mph (Kim)
•  One of the first ever Australians to break a land speed record over 200mph (Greg)
•  Fastest ever Australian land speed racing woman since 2006 & first Aussie woman into the '200Club' (those who have set a record over 200mph) (Kim)
•  Fastest motorcycle at Bonneville in 2012 at 256mph (Greg)
•  Owner of the fastest 750cc bike in the world since 2008 at 239mph (Kim)
•  One of the world's fastest with no aero-dynamic assistance at 244mph (Jim)
•  Multiple-time top speed of meet trophy winner at Bonneville and Colorado Mile (Greg)
•  Multiple outright top speed trophies at Bonneville and the Mojave Mile (Jim)
•  Fastest woman at Bonneville (USA) and Lake Gairdner (Aus) (Kim)
•  Fastest outright top speeds of 390kmh/244mph (Kim), 413kmh/257mph (Greg) and 390kmh/244mph (Jim)
•  3 x Bonneville 200mph club hats (Jim, Greg & Kim)
•  3 x BUBs 201mph club hats (Jim, Greg & Kim)
•  2 x El Mirage 'Dirty Two' Club Hats (records over 200mph) (Jim & Greg)
•  3 x DLRA 200mph hats (Jim, Greg & Kim)
•  3 x Colorado Mile 200mph club memberships (Jim, Kim & Greg)
•  200mph clubs at both the Mojave Mile and the Mojave Magnum (Jim)